Positive attitude helps to overcome challenges, maintain independence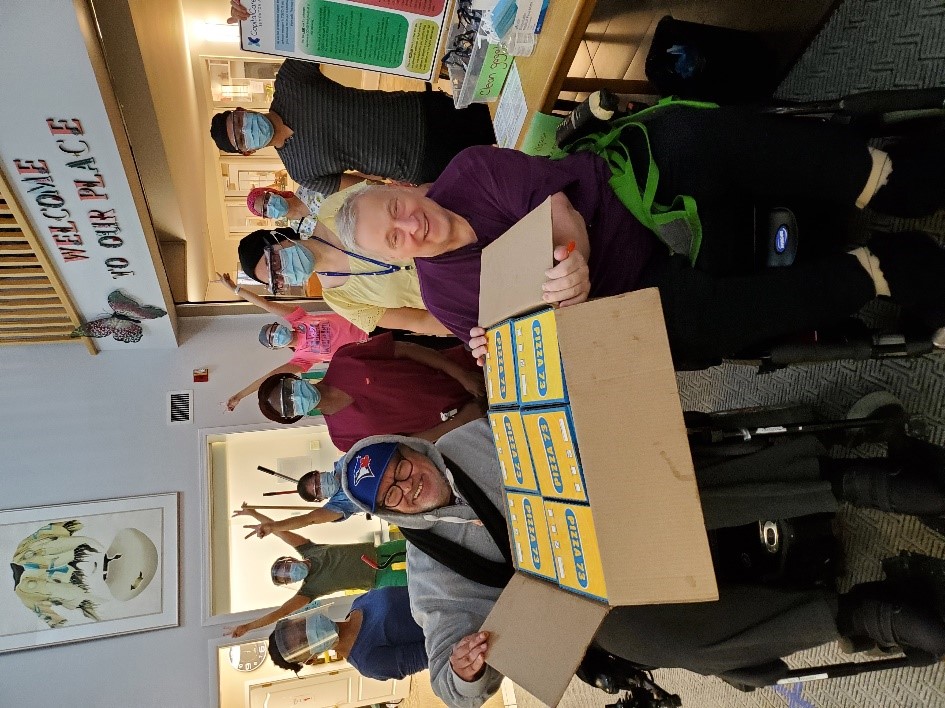 Laurier House Lynnwood residents Ron Pawlyk (front right) and Roger Breault, on behalf of the Resident and Family Council, thank staff with personal pizzas for their efforts during the COVID-19 pandemic.
Ron Pawlyk is the first to admit that of all the conditions he suffers from, laziness poses the biggest risk to his health. The 71-year-old Laurier House Lynnwood resident has been living with multiple sclerosis for nearly half of his life. Twenty years ago he was diagnosed with type 2 diabetes. His doctors told him he would need a wheelchair for the rest of his life. But seven months after attending a rehab program at the ReYu Recovery Centre, Ron is standing up on his own. Now he is determined to lose some weight so he can move around more easily and get back some of his independence.
"I don't like waiting on someone to do things for me," says Ron. "I have so much to look forward to."
The former collegiate wrestler attributes part of his recovery to a positive attitude and a willingness to meet challenges head on. He views his MS as just another opponent whom he can beat by doing things differently. Laziness, however, is a far bigger challenge to overcome.
"I have come to realize that with laziness, the problem is looking at me in the mirror, and so is the solution," says Ron in his trademark self-depricating manner of speaking.
Madison Howdle is the recreation therapist at Laurier House Lynnwood. She says Ron's resiliency in the face of adversity has been an inspiration to others, especially during the COVID-19 pandemic.
"Ron maintains a very high level of resiliency not only from COVID but also his own physical challenges. He serves as an inspiration to others by pushing his limitations and not letting life get him down, by continuing to face challenges head on and not let anything get in his way."
---
People & Progress Newsletters Archive
Please select an edition