Dickinsfield Commemorates National Day for Truth and Reconciliation
CapitalCare respectfully acknowledges that our care homes are situated on Treaty 6 territory, traditional lands of First Nations and Métis people, whose histories, languages, and cultures enrich our communities.
Staff and residents at CapitalCare Dickinsfield have been Working Together With Purpose on a display to recognize the first National Day for Truth and Reconciliation, September 30.
"We wanted to do something that would recognize the day and the lived experiences of the Indigenous people in our Dickinsfield community," says recreation therapist Keeley Eigner.
"We wanted to be sure that they felt seen and heard and supported. We wanted to give residents, staff, and visitors the opportunity to learn and reflect on the meaning of the day."
Carolyn Dankowich is a health care aide and part of the team of staff who worked on the display elements. She suggested including a medicine wheel and CapitalCare's land acknowledgment statement as being important to Indigenous people such as herself.
Some residents and staff may have first-hand experience and know all about Indigenous culture/residential schools, but the display was also planned for those who know very little about the subject.
"I would say that our discussions have absolutely been educational for some of the residents. It is such a complex topic and so you're going to have different discussions with each individual or group of residents."
"One line I really liked from a teacher resource I found was "… the purpose for understanding the past is to be a part of a more positive future." We're learning more about this difficult history, and sharing it with our residents, so that together we can support one another and build a more positive future for our children and grandchildren."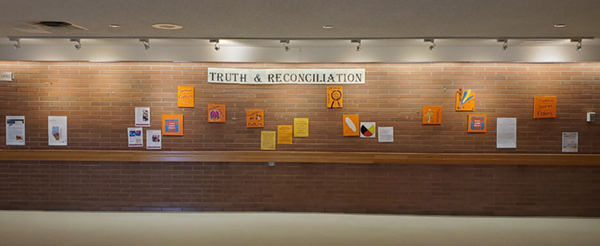 The display extends along the main floor art wall and includes some information about Indigenous culture and history, as well as history about residential schools in the Edmonton area. Anyone who may be struggling and need support around this subject matter can access the Hope for Wellness Help Line, which offers immediate mental health counselling and crisis intervention to all Indigenous peoples across Canada; call 1-855-242-3310.
---
Animals help people with dementia reconnect
CapitalCare Kipnes Centre for Veterans resident Donna McCallum was a "hard working farm mom," according to her son Stuart, raising her family on a 160-acre farm west of Edmonton in the Winterburn area, along with tending to chickens, pigs, cows, and a huge garden. Read More.
---
People & Progress Newsletters Archive
Please select an edition