National Volunteer Week - April 24-30, 2022
Residents and volunteers build connections while building boxes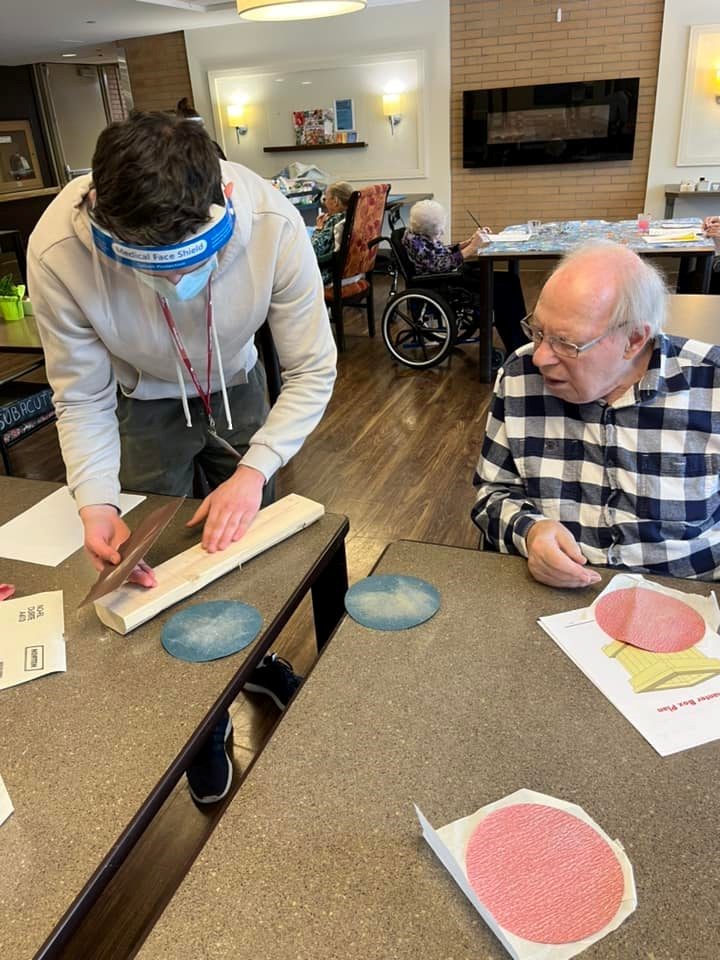 Grandview resident Theo (right) and volunteer Michael share a connection while building planter boxes in February 2022. When the photo was posted to Facebook, Theo's family commented "You make sure he does it right, Oom Theo."
CapitalCare Grandview resident Theo was a "jack of all trades," who could fix and build just about anything. As a senior draftsman he gained extensive knowledge about carpentry, and in his later years designed a beautiful wood cabin for his daughter on Vancouver Island.
So when volunteer Michael invited Theo to assemble some planter boxes, Theo felt like his old self again. "I have made boxes just like these!" he beamed and proceeded to take a leadership role in the woodworking group, laying out the wood for other residents to work with.
Michael, who is interested in a career in medicine, was impressed with Theo's knowledge of woodworking. "Who knew there was so much to know about the grit ranges of sandpaper?" said the young volunteer who comes by every week to assist with recreation programs.
Theo enjoys most of the recreation programs offered at the centre, but with this one, he was able to pass on knowledge to a younger generation, reminisce with other residents about similar projects from their pasts, and feel a sense of purpose and accomplishment. For Michael, it doesn't matter what program is going on, it's about the relationships he is developing with residents. "I enjoy hearing the stories of the residents when we are engaged in a program together."
The wood for the planter boxes was donated by Jen Col Construction, a proud supporter of the CapitalCare Foundation.
---
Events

Walk With Me Conference May 26-27, 2022
Walk with Me 2022, now being offered virtually, is our opportunity to reconnect, reimagine and recommit to changing the culture of aging in Canada. Learn more.
---
People & Progress Newsletters Archive
Please select an edition