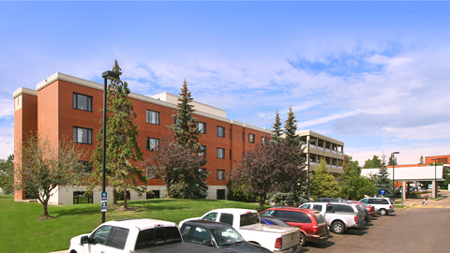 10410 - 111 Avenue
Edmonton, Alberta T5G 3A2
T 780.496.3200
F 780.474.9806
Last updated July 29 at 2:00 pm
A staff member who was positive for COVID-19 and isolating at home has recovered. Residents, patients and staff were tested yesterday and results are all negative for COVID-19.
---
Visitation
Starting July 26, residents and patients can have any number of visitors, and visitors no longer need to schedule their visits. Family and friends are welcome to DROP-IN and stay as long as you want to, as long as you enter the building during our new ENTRY TIMES.
The online booking system is no longer needed and "Visiting Hours" are changing to "Entry Times." Everyone who enters the building still needs to be screened, and the entry times reflect the times screeners will be present.
Family and friends visiting a resident at end-of-life may come to the centre at any time and use the buzzer to enter the building after hours.
Please continue to maintain physical distance from other residents and visitors while you visiting indoors or outdoors.
Masking
Visitors are allowed to join recreation programs. However, visitors must:
remain masked at all times in common areas,

refrain from eating and drinking,

stay with their loved one,

not be assisting with serving or assisting other residents at this time.
Visitors can remove masks in private rooms or private visiting areas. In a shared room situation, the other resident/patient(s) must consent before a visitor can remove a mask and physical distancing of two metres must be maintained.
Virtual Visits
We ask family members and friends who are visiting in-person to facilitate these visits going forward, where possible. If you need assistance, please connect with the Coordinator of Volunteer Services at your centre or a recreation team member.
As well, we invite you to follow us on the CapitalCare Facebook page to see photos and videos of residents engaging in activities or to pass along messages.
For more information or general questions please email us at info@capitalcare.net.
---
New: Norwood Redevelopment Project - Parking Update- May 11, 2021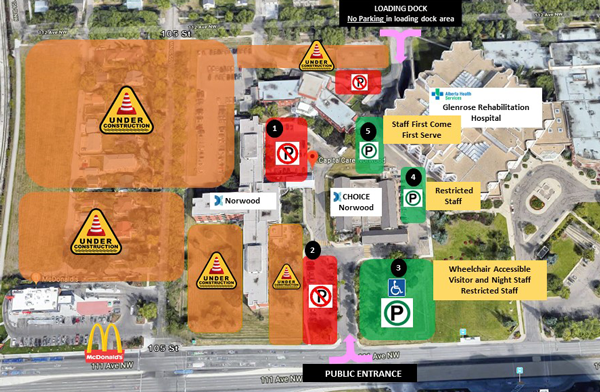 PLEASE NOTE: the covered parking at CHOICE is only permitted on weekdays after 1630hrs and on weekends for Green Accessible Parking Permit holders only. Please DO NOT park in the CHOICE designated stalls (signage posted in these stalls) closest to the CHOICE entrance doors or you may be tagged and towed.
---
CapitalCare Norwood Re-Development Project Update - Click here
---
Seven-story tower, garden to highlight massive CapitalCare Norwood revamp.
June 11, 2018 - Alberta Health Services has unveiled its designs for the giant project...Read More.
---
Norwood is located in central Edmonton, across from the Royal Alexandra Hospital and beside the Glenrose Rehabilitation Hospital. Once a traditional long-term care centre with 205 beds, Norwood now offers a mix of programs which include post-acute care, a palliative hospice and complex long-term care in an environment that supports choice, autonomy and, where possible, independence. Norwood's specialized programs are:
Alternative Level of Care:
For individuals with stable medical conditions who no longer require treatment in acute care, but require further assessment to determine the optimal

living option

(home care, supportive living or long-term care).
---
Chronic Ventilator Unit (Red Eagle Ridge):
For individuals with significant chronic illness and complex health needs who require ventilation.

Health team includes 24-hour Respiratory Therapists to support ventilator care.
---
Restorative Care:
Support for individuals, often frail seniors, who wish to return to their home/community after an acute episode which required hospitalization.

Provides continued rehabilitation, clinical care and discharge planning to ensure a successful return to home.

Click here to download our Restorative Care brochure.
---
Post-Acute Care:
For individuals with significant but stable medical conditions who require an extended period of recovery following the acute phase of a surgery, illness or accident.

Provides continued rehabilitation, clinical care and discharge planning to ensure a successful return to home.

Click here to download our Post-Acute brochure.
---
Acquired Brain Injury Unit (North Horizons):
---
Palliative Hospice
---
For More Information
*Assessment by Alberta Health Services is required before admission to this centre. For more information call 780.496.1300 or click here.

---
Centre Entry Hours
All visitors coming into our buildings must complete a screening.
CapitalCare Norwood
Monday - Friday
8:00am - 7:15pm
Weekends/Stats
11am - 7:15pm
Norwood Hospice
8:00am - 7:15pm
Weekends/Stats
11am - 7:15pm (*unless special arrangements have been made.)
---
Hair Salon
Hair services temporarily paused.
---
Family Updates
---
Recreation
Recreation calendars are not available due at this time.
More photos are on our Facebook page.
---
Dining Experience
Norwood offers unique menu options for breakfast, lunch, supper and snacks. These options are based on resident feedback and required nutritional standards. Different textures and diet options are available based on individual needs.
Registered Dietitians assess nutritional requirements as individual's needs or abilities change. Menu cycles repeat (at a minimum) every three weeks.