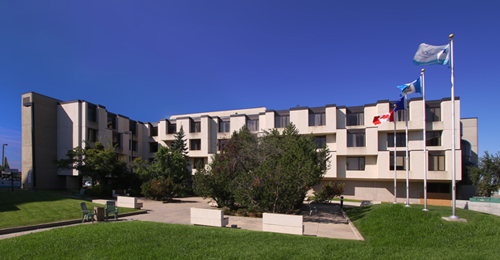 8740 - 165 Street
Edmonton, Alberta T5R 2R8
T 780.341.2300
F 780.341.2363
Last updated November 10, 2021 at 11:30am
CapitalCare Lynnwood currently has no staff or residents active with COVID-19. 4 Parker Pavilion (4PP) is no longer on outbreak. Read more about upcoming renovations and activities at our centre.
---
New: Upcoming Road Closure in the area of 170 St/ 87 Avenue. Read more.
Visitors are welcome to DROP-IN if you enter the building during our new ENTRY TIMES. Entry Times reflect the hours screeners are present.
One exception is for family and friends visiting a resident at end-of-life. You may come to the centre at any time and use the buzzer to enter the building after hours.
Effective October 25, all visitors are required to wear a mask at all times, including the resident room, regardless of vaccination status. The only exception is when there is a notable communication barrier. Visitors are encouraged to contact their care managers in these cases.
Visitors, volunteers, service providers, entertainers, and anyone entering our buildings must continue to:
Visitors may take part in recreation activities provided they:
refrain from eating and drinking

stay with their loved one

not be assisting with serving or assisting other residents at this time.
Virtual Visits
If you need assistance to facilitate a virtual visit, please connect with the Coordinator of Volunteer Services at your centre or a recreation team member.
As well, we invite you to follow us on the CapitalCare Facebook page to see photos and videos of residents engaging in activities or to pass along messages.
For more information or general questions please email us at info@capitalcare.net.
---
CapitalCare Lynnwood is located in Edmonton's west end. The centre has 276 long-term care beds care and provides an environment that supports choice, autonomy and, where possible, independence.
In addition to general long-term care, Lynnwood offers the following specialized programs:
Enhanced Support Unit
Individuals who have complex medical and psychiatric needs resulting in challenging and unpredictable physical and verbal aggression.

The environment has enhanced staffing levels in order to provide care and adequate oversight.

The care needs of these individuals cannot be managed in general long term care settings.
---
Enhanced Support Unit - Male
Male clients 18 years and older:
who are needing a secure environment for their safety and/or to protect the safety and well-being of others.

who exhibit responsive behaviours whic limit/preclude participation in programming as offered in conventional, long-term care spaces/sites.

who exhibit sexually disinhibitied or aggressive behaviours which make residing in an area with female resident problematic.
---
Mental Health Unit
---
Lynnwood also provides support services to Laurier House Lynnwood and McConnell Place West.
For More Information
*Assessment by Alberta Health Services is required before admission to this centre. For more information call 780.496.1300 or click here.

---
Centre Entry Hours
All visitors coming into our buildings must complete a screening.
Monday - Sunday
10:00 - 6:00pm
---
Hair Salon
Click here for pricelist and hours.
---
Family Updates
---
Recreation
Recreation calendars are not available at this time.
Here's a snapshot of the activities that are ongoing. More photos are on our Facebook page.
---
Dining Experience
Lynnwood offers unique menu options for breakfast, lunch, supper and snacks. These options are based on resident feedback and required nutritional standards. Different textures and diet options are available based on individual needs.
Registered Dietitians assess nutritional requirements as individual's needs or abilities change. Menu cycles repeat (at a minimum) every three weeks.