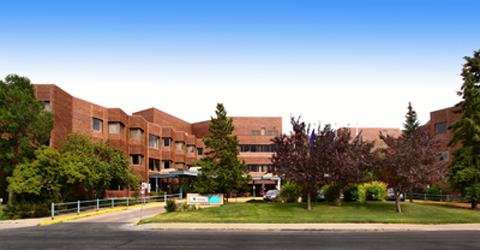 14225 - 94 Street
Edmonton, Alberta
T5E 6C6
T 780.371.6500
F 780.371.6583
Last updated February 19, 2021 at 10:30am
The outbreak status at CapitalCare Dickinsfield has been lifted. Currently, no residents and no staff members are active with COVID-19. Read More.
Designated Support Persons (DSPs) are asked to refrain from coming to the centre, unless the resident's care needs cannot be met without their assistance, or in an end-of-life situation.
Social visits are on pause. We encourage family and friends to connect by teleconference and telephone. These visits can be scheduled using the online booking system.
Laundry drop off and pick up may continue. We are also accepting deliveries for residents on all neighbourhoods. Please drop off items between 10 am and 6pm.
If you need more information, or have any questions, please email us at info@capitalcare.net.
---
Dickinsfield is located in northeast Edmonton. The centre has 275 long-term care beds and provides an environment that supports choice, autonomy and, where possible, independence.
In addition to general long-term care, Dickinsfield offers the following specialized programs:
Dementia Care, Secure:
---
Young Adult Long-Term Care:
---
Dickinsfield also operates the Young Adult Day Support Program and provides support services to Adult Duplexes and McConnell Place North.
For More Information
*Assessment by Alberta Health Services is required before admission to this centre. For more information call 780.496.1300 or click here.

---
Hairl Salon Now Open!
Click here for hours and price list.
---
Visiting Hours
In-person social visits are paused on all neighbourhoods.
---
Online Booking Form


---
Visitor Screening
Note:

All visitors coming into our buildings (DSP or others) must complete the screening. To fast track the process, please complete the screening process below.

---
Family Updates
---
Recreation
Recreation calendars are not available due to COVID-19.
Check out recreation photos are on our Facebook page.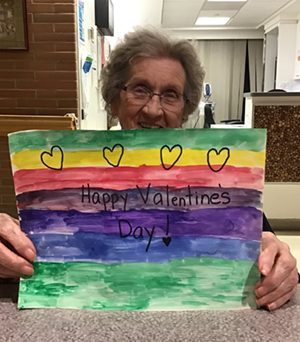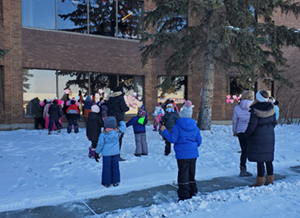 CapitalCare Dickinsfield residents welcomed a window visit from St. Anne Elementary School to celebrate Random Acts of Kindness week and a belated Valentine's Day!
---
Dining Experience
Dickinsfield offers unique menu options for breakfast, lunch, supper and snacks. These options are based on resident feedback and required nutritional standards. Different textures and diet options are available based on individual needs.
Registered Dietitians assess nutritional requirements as individual's needs or abilities change. Menu cycles repeat (at a minimum) every three weeks.