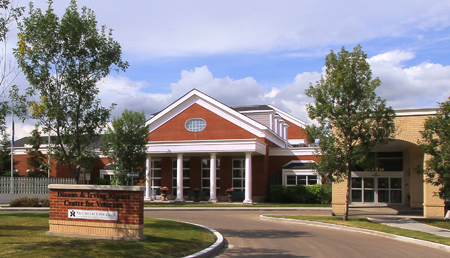 4470 McCrae Avenue
(Castledowns Rd. & 152 Ave)
Edmonton, Alberta T5E 6M8
T

780.442.5700


F

780.442.5711
Last updated February 12, 2021 at 3:00pm
Kipnes Centre for Veterans has no active cases of COVID-19. Read More.
Visitation is limited to Designated Support Persons (DSPs) at this time. Please call Bev Friske at (780) 442-5720 to discuss scheduling.
Social visits remain on pause. We encourage family and friends to connect by teleconference and telephone. These visits can be scheduled using the online booking system.
Laundry drop off and pick up continues.
If you need more information, or have any questions, please email us at info@capitalcare.net.
---
Located in northwest Edmonton, the Dianne and Irving Kipnes Centre for Veterans has 120 long-term care beds and provides an environment that supports choice, autonomy and, where possible, independence. Veterans (male and female) currently have priority.
In addition to general long-term care, Kipnes Centre for Veterans offers the following specialized programs:
Dementia Care, Secure:
---
Adult Day Support Program
Support for individuals (veterans and non-veterans, male and female) with physical, emotional and/or social limitations who are age 55+ and reside in the community.

Provides respite for family caregivers while participants attend program.

Programming includes recreational activities, exercise, meals and snacks, family and client education and support, spiritual care and reminders to take prescribed medications.
---
For More Information
*Assessment by Alberta Health Services is required before admission to this centre. For more information call 780.496.1300 or click here.

---
Hair Salon Now Open!
Click here for hours and pricelist.
---
Visiting Hours
In-person social visits are paused on all neighbourhoods.
---
Online Booking for Visitations
---
Visitor Screening
Note:

All visitors coming into our buildings (DSP or others) must complete the screening. To fast track the process, please complete the screening process below.

---
Family Updates
---
Recreation
Recreation calendars are not available due to COVID-19.
Go to our Facebook page for more centre activity photos.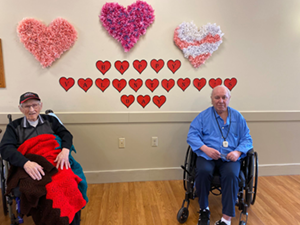 Kipnes Centre for Veterans residents enjoyed Valentine's Day activities, sweet treats and each other's company, Here,Charles and Cesar proud of their work.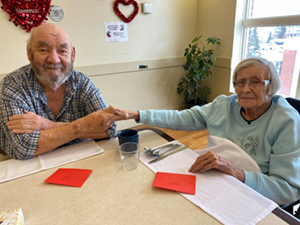 Resident couple Gary and Edith inspiring us to hold hands and smile together.
---
Dining Experience
Kipnes Centre for Veterans offers unique menu options for breakfast, lunch, supper and snacks. These options are based on resident feedback and required nutritional standards. Different textures and diet options are available based on individual needs.
Registered Dietitians assess nutritional requirements as individual's needs or abilities change. Menu cycles repeat (at a minimum) every three weeks.