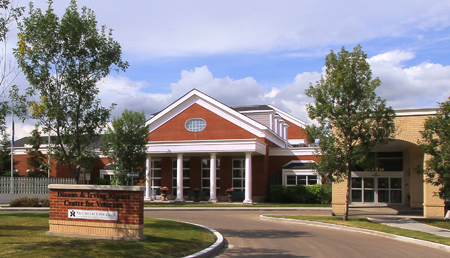 4470 McCrae Avenue
(Castledowns Rd. & 152 Ave)
Edmonton, Alberta T5E 6M8
T

780.442.5700


F

780.442.5711
Last updated July 26 at 9:00 am
Visitation
Starting July 26, residents and patients can have any number of visitors, and visitors no longer need to schedule their visits. Family and friends are welcome to DROP-IN and stay as long as you want to, as long as you enter the building during our new ENTRY TIMES.
The online booking system is no longer needed and "Visiting Hours" are changing to "Entry Times." Everyone who enters the building still needs to be screened, and the entry times reflect the times screeners will be present.
Family and friends visiting a resident at end-of-life may come to the centre at any time and use the buzzer to enter the building after hours.
Please continue to maintain physical distance from other residents and visitors while you visiting indoors or outdoors.
Masking
Visitors are allowed to join recreation programs. However, visitors must:
remain masked at all times in common areas,

refrain from eating and drinking,

stay with their loved one,

not be assisting with serving or assisting other residents at this time.
Visitors can remove masks in private rooms or private visiting areas. In a shared room situation, the other resident/patient(s) must consent before a visitor can remove a mask and physical distancing of two metres must be maintained.
Virtual Visits
We ask family members and friends who are visiting in-person to facilitate these visits going forward, where possible. If you need assistance, please connect with the Coordinator of Volunteer Services at your centre or a recreation team member.
As well, we invite you to follow us on the CapitalCare Facebook page to see photos and videos of residents engaging in activities or to pass along messages.
For more information or general questions please email us at info@capitalcare.net.
---
Located in northwest Edmonton, the Dianne and Irving Kipnes Centre for Veterans has 120 long-term care beds and provides an environment that supports choice, autonomy and, where possible, independence. Veterans (male and female) currently have priority.
In addition to general long-term care, Kipnes Centre for Veterans offers the following specialized programs:
Dementia Care, Secure:
---
Adult Day Support Program
Support for individuals (veterans and non-veterans, male and female) with physical, emotional and/or social limitations who are age 55+ and reside in the community.

Provides respite for family caregivers while participants attend program.

Programming includes recreational activities, exercise, meals and snacks, family and client education and support, spiritual care and reminders to take prescribed medications.
---
For More Information
*Assessment by Alberta Health Services is required before admission to this centre. For more information call 780.496.1300 or click here.

---
Centre Entry Hours
All visitors coming into our buildingsmust complete a screening.
Monday - Friday
11:00am - 7:00pm
Weekends/Stat Holidays
9:00am - 5:00pm
---
Hair Salon Open
Click here for hours and pricelist.
---
Zoom Town Halls (recorded)
Family Updates
---
Recreation
Recreation calendars are not available at this time.
Here's a snapshot of the activities that are ongoing. More photos are on our Facebook page.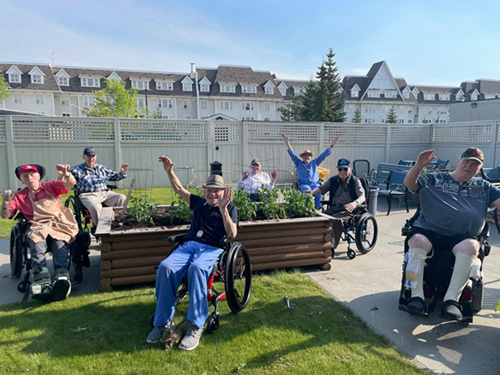 Spring time has allowed for lots of outdoor time for the residents at Kipnes Centre for Veterans. Getting the gardens ready, painting the bird feeders, outings on the bus and bike, along with keeping busy while inside.
---
Dining Experience
Kipnes Centre for Veterans offers unique menu options for breakfast, lunch, supper and snacks. These options are based on resident feedback and required nutritional standards. Different textures and diet options are available based on individual needs.
Registered Dietitians assess nutritional requirements as individual's needs or abilities change. Menu cycles repeat (at a minimum) every three weeks.