Volunteer at CapitalCare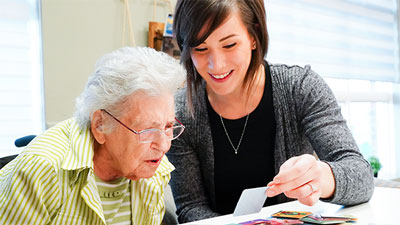 Volunteers are vital to CapitalCare. We believe in care that recognizes the dignity and uniqueness of our residents. Volunteers ensure our residents enjoy the things they love. Whether it's just a conversation, a walk, bringing in a pet or sharing a meal, volunteers provide experiences that make our residents' day.
Volunteers between the ages of 12+ are welcome to come help at our centres. We provide on-going support and training and offer flexible daytime and evening volunteer opportunities. No previous experience is required; however we encourage people to have willingness to help others and to embrace the difference, dignity and uniqueness of others.
Volunteers help by:
Visiting with residents

Accompanying residents on outings

Assisting at mealtimes

Contribute to recreation and leisure activities

Sharing your musical talents – piano, guitar, harp, etc.

Providing spiritual care

Volunteering at our gift shops

Bring your pet in to visit
For more information, check the list of positions, or contact the Coordinator of Volunteer Services at the centre of your choice.