---
Visiting Hours
Monday - Friday
10:00am - 7:00pm
Saturday/Sunday/Holidays
10:00am - 3:00pm
Please no arrivals for visits between 2:30 and 3:30pm due to staff screening requirements.

All visitors must have a pre-arranged appointment and be screened upon entering.
---
Online Booking for Visitations
Note: Starting October 1, outdoor visits move indoors.

---
Visitor Screening
Note:

All visitors coming into our buildings (DSP or others) must complete the screening. To fast track the process, please complete the screening process below.

---
Events

Laurier House Lynnwood Town Hall
October 6, 2020
5:30 - 6:00PM

Join the Meeting
Meeting ID: 939 5675 3014
Passcode: 965381
Join By Phone
(587) 328-1099
(778) 907-2071
Meeting ID: 939 5675 3014
Passcode: 965381
**long distance charges may apply.
---
Family Updates
---
Recreation
Recreation calendars are not available due to COVID-19.
Daily activities are posted on the recreation whiteboard.
Here's a snapshot of the activities that are ongoing. More photos are on our Facebook page.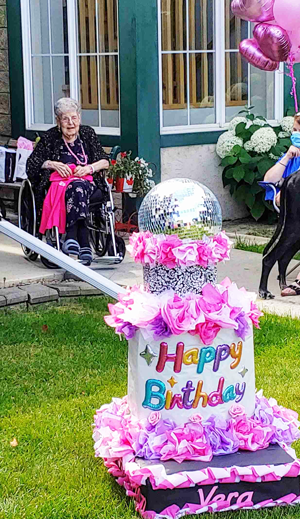 Happy birthday to CapitalCare's grande dame! 108-year-old Vera S. is the oldest of 31 residents 100 years and older this year. Vera's family celebrated the milestone with a seven-car parade at Laurier House Lynnwood this afternoon.
---
Dining Experience
Laurier House Lynnwood offers unique menu options for breakfast, lunch, supper and snacks. These options are based on resident feedback and required nutritional standards. Different textures and diet options are available based on individual needs.
Registered Dietitians assess nutritional requirements as individual's needs or abilities change. Menu cycles repeat (at a minimum) every three weeks.

---
Centre Information