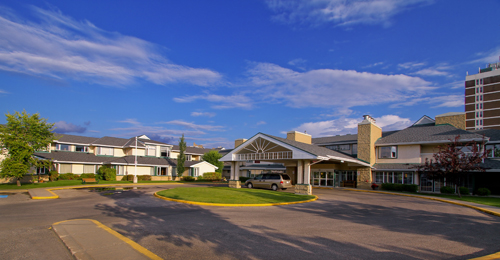 16815 - 88 Avenue
Edmonton, Alberta  T5R 5Y7
T  780.413.4712
F  780.413.4736
Last updated May 13, 2021 at 4:00pm
Currently, no residents and no staff members are active with COVID-19.
Outdoor and Virtual Visits
Our centre now has two outdoor visiting areas. One area can accommodate up to five persons (including the resident). Starting May 17, the second area can accommodate up to 10 persons (including the resident). Please bring your own chairs and maintain continuous masking and physical distancing.
Virtual visits are still an option. Please use the online booking system to schedule these visits.
Indoor Visits
Currently, indoor visitation is limited to Designated Support Persons (DSPs), and each resident can have up to four DSPs. If you would like to increase the number of DSPs for your loved one, please contact reception during business hours, Monday to Friday, 8:00 am to 4:00pm. They will direct you to the person looking after DSP arrangements. We ask that only one to two DSPs visit at a time so that we can maintain physical distancing and other safety measures. If you are a new DSP, please arrive 20 minutes early to complete the visitation training with the front entrance staff before entering the building.
We are working with residents and families on an approach for indoor social visits that works within the guidelines set out in public health Order 16-2021. We will have more information in the coming weeks.
All visits continue to be scheduled in advance – no drop ins.
Whether or not you are vaccinated, we ask all DSPs and visitors who come to the centres to be kind and considerate to staff, and to continue complying with public health measures. These include:
• Continuous masking
• Refraining from eating and drinking
• Remaining in the assigned visiting area

Please review the Frequently Asked Questions and complete the Self-Assessment BEFORE you come to the centre.
Deliveries
Laundry pick up and drop off services continue at the front reception. 
We accept deliveries (books, flowers, chocolates, small grocery items) for residents on all neighbourhoods. Coffee and snacks for residents are also welcome, but please do not bring them during a scheduled visit. Please come to the centre between 10am and 3pm to drop off items.
For more information or general questions please email us at  info@capitalcare.net.
---
Laurier House Lynnwood has 80 designated supportive living spaces and can accommodate people assessed for long-term care on a case-by-case basis. The life-lease concept gives people more flexibility and choice than traditional care housing options, and allows you to live as independently as possible in a communal setting.
Laurier House Lynnwood  is within walking distance of West Edmonton Mall, and the Misericordia Community Hospital and Health Centre. Bus service is also conveniently nearby.
---
Special Features
Opportunity to live alone or with a spouse, companion, and/or a small pet

Bachelor, one and two-bedroom suites with kitchenettes and spacious ensuites

Private balconies or patios

Courtyards and outdoor gardens

Private dining room for special events

Guest room for out-of-town friends or family

Activity room with exercise area

Recreation programming

Beauty salon

Affordable life leases starting at $90,000.

Click here

for a complete price list
For More Information
*Assessment by Alberta Health Services is required before admission to this centre. For more information call 780.496.1300 or click here.

---
Hair Salon Open
Click here for hours and pricelist.
---
Online Booking for Social Visits

---
Visitor Screening
Note:

All visitors coming into our buildings (DSP or others) must complete the screening. To fast track the process, please complete the screening process below.

---
Family Updates
---
Recreation
Recreation calendars are not available due to COVID-19.
Here's a snapshot of the activities that are ongoing. More photos are on our Facebook page.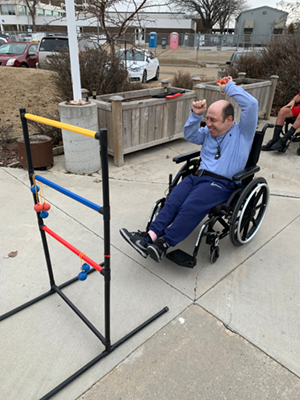 Laurier House Lynnwood residents enjoyed the beautiful outdoor weather by going for walks and playing ladder ball in the gazebo area.
---
Laurier House Lynnwood is Awesome!
This video was created by residents and staff. It is dedicated to those residents who passed away and who remain forever in our hearts and memories.
---
Dining Experience
Laurier House Lynnwood offers unique menu options for breakfast, lunch, supper and snacks. These options are based on resident feedback and required nutritional standards. Different textures and diet options are available based on individual needs.
Registered Dietitians assess nutritional requirements as individual's needs or abilities change. Menu cycles repeat (at a minimum) every three weeks.

---
Centre Information