March 5-6, 2018, Niagara Falls, Ontario
A biennial conference that brings together older adults/residents, care partners, educators, policy makers, students and researchers from all over the country to learn with and from each other about how to enhance the journey of aging across the continuum of care and community living.
Learn More
· Registration – Early Bird Extended to January 31st!!
· Keynotes
· Program
· Call for Sessions – Call for Sessions is now closed.
· Conference planning partners
---
Keynote: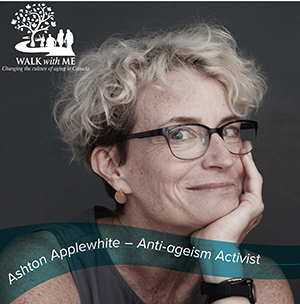 Ashton Applewhite - Anti-ageism Activist
Aging is a natural, powerful, lifelong process that unites us all. What if discrimination on the basis of age were as unacceptable as any other kind of prejudice? Ashton Applewhite is a leading voice in an emerging movement dedicated to dismantling ageism and making age a criterion for diversity. The author of This Chair Rocks and a TED2017 mainstage speaker, she reveals the untapped possibilities of late life—in our communities, at work, and in ourselves.
---

Walk with Me 2018 - Early Bird Rates Extended to Jan 31st.
This conference will sell out! Take adavantage of early-bird rates. Register before January 31st.
Click here for details.
---
Living Fully
Next Steps for the Canadian culture change movement
The second Walk With Me conference was held in Edmonton, Alberta in 2016. Following the conference, an international panel of culture change leaders met to identify areas of focus for the movement. It was agreed that "living fully", rather than "aging well," should be the goal of the movement. Get the Living Fully white paper to find out about potential strategies to advance the culture change movement in Canada.