Volunteers who make a difference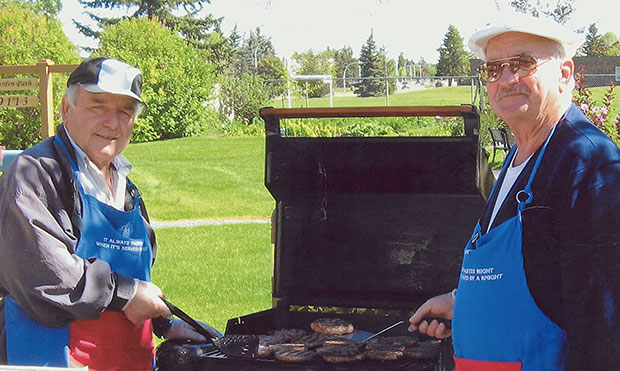 The "Kings of the BBQ" have hung up their aprons. Long-time volunteers Frank Coady and Rudy Chowaniec, have retired after a combined service of 46 years and over 6,300 hours. Read More.
---
Volunteer at CapitalCare
Volunteers are a vital part of CapitalCare. They enhance the quality of life for our residents and clients. Volunteers help our residents maintain their independence. We provide ongoing support and training and offer flexible daytime and evening volunteer opportunities.
Our volunteers help by:
Visiting residents and clients
Accompanying residents and clients on outings
Assisting at mealtimes
Contributing to recreation and leisure activities
Providing spiritual care (click here for more information)
Bringing in pets to visit
We do not require our volunteers to have previous experience, however they must possess:
A willingness to help others
The acceptance of difference in others
The time to spare
Successful completion of the application process
CapitalCare has 11 continuing care centres that are great places to volunteer. Join our volunteer team and make new friends while gaining valuable healthcare experience.
For more information, check the list of positions, or contact the Coordinator of Volunteer Services at the centre of your choice.
Discover what makes over 200 summer youth volunteers choose CapitalCare. No experience necessary!
Download volunteer brochure