Giving the gift of time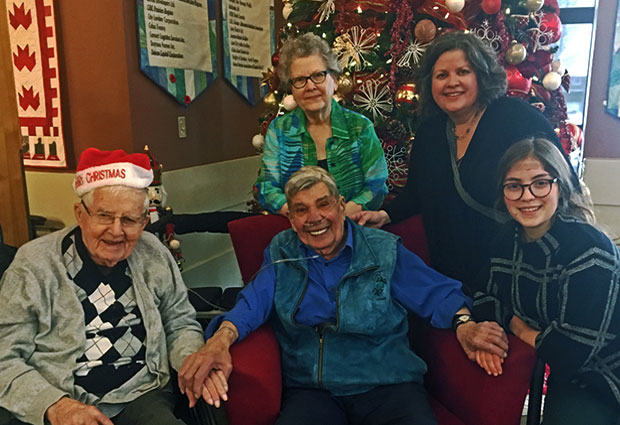 Photo caption: L-R Gordon King, Gene Sabo, with Gene's grand-daughter Eva, daughter Shelley, and wife Gail at the Day Program Christmas dinner.
He survived the war, including the "great escape" from a German prison. Now, as he approaches his 100th birthday, Gordon King's new-found friendship with an 87-year-old war enthusiast might just be the medicine both men need to keep fighting the war on loneliness.

The holidays are traditionally a period for reflection and catching up with friends and family. Seniors living in care homes often struggle over the holidays, even though there are an abundance of residents, staff, volunteers and activities.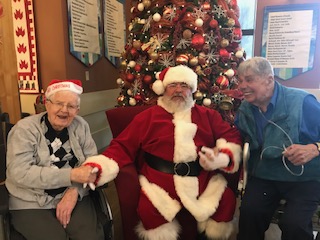 "We know that those who are more connected with their family and friends lead longer, happier, and healthier lives," says Jodi Hall, Chair of the Canadian Association for Long-Term Care (CALTC)
The CALTC is asking people to give those living in long-term care the gift of time this holiday season.
"By reaching out during the festive season to elderly family members or friends, we can make a huge difference in someone's quality of life."

Gordon King, 99, has lived at the CapitalCare Kipnes Centre for Veterans for three years. His family visits often, but the days can still be long.

Gene Sabo, 87, lives in the community and started coming to the Day Program at the Kipnes Centre this spring. Day Programs provide socialization and exercise to keep frail seniors healthy and living in the community as long as possible.

Gordon and Gene connected after discovering they had a mutual interest in war stories and memorabilia.
The two visit with each other every Monday and Wednesday while Sabo attends the Day Program.

"Mr. King always has a smile for me and we are always glad to see each other and spend time together," says Mr. Sabo. "We can be content to just sit together. We don't have to talk all the time. Sometimes we just hold hands."
"CapitalCare Kipnes Centre for Veterans is a very special place," says Gene's daughter Shelley. "Caring staff create the conditions for natural friendships to nurture and grow. Being part of a community where one feels like they belong is known to be good for one's well-being."

"Human contact is so important. It is so needed in a place like this. Maybe it does not seem like much, but it means a lot to both of us. We hope our friendship encourages other friendships to grow."


---
Centre Recreation Calendars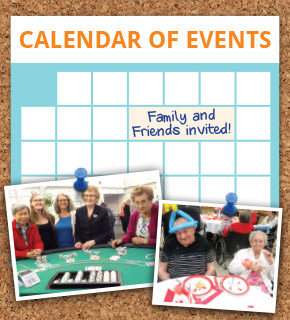 People & Progress Newsletter Archive
For past issues, please select from the menu below.
Please select an edition