In the News
Health Minister recognized CapitalCare Strathcona as a centre of excellence in providing person-centred care.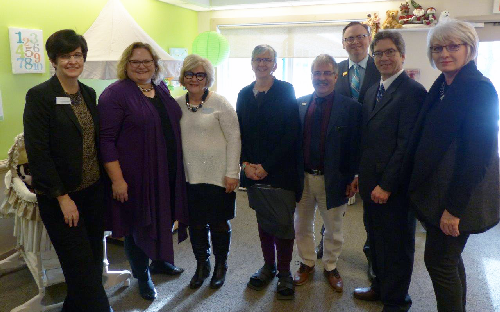 L-R: CapitalCare Chief Operating Officer Francine Drisner; Alberta Health Minister Sarah Hoffman; CapitalCare Strathcona Site Director Liz Tanti; Sherwood Park MLA Annie McKitrick; Strathcona Country Councillor Bill Tonita; Strathcona Country Councillor Robert Parks; Strathcona County Mayor Rod Frank; Care Practice Leader Renee Rhodes
CapitalCare Strathcona has been recognized by the Alberta government for providing excellent person-centred care.
"This facility offers an excellent example of our beliefs in making sure Alberta seniors and others with specific needs are supported in a comfortable, person-centred environment that respects their dignity."

Alberta Health Minister Sarah Hoffman made the statement on Facebook after a tour of the Sherwood Park continuing care centre which included a stop in the Harvest House nursery.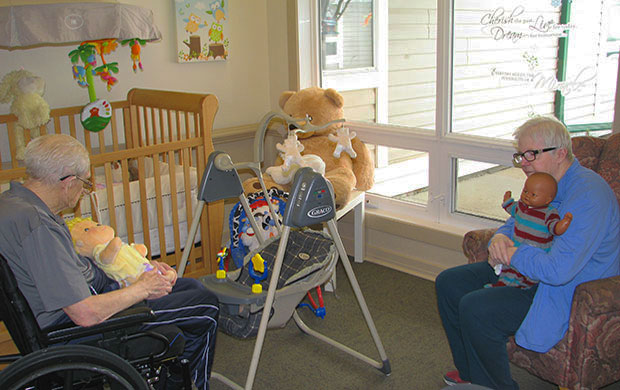 The nursery was created earlier this year, the brainchild of Care Practice Leader Renee Rhodes, who worked with residents' families to transform disused spaces into stimulating, person-centred environments. A man cave, spa, bistro and calming room were also part of the project.

"The idea behind these environments to give people living with dementia a place to go, to stimulate memories, and build relationships," says Liz Tanti, Site Director at CapitalCare Strathcona.

Karen Cavanaugh's mother Lorraine has been a resident of Harvest House for over three years. Karen says it was heartbreaking for her to visit and find her mom and other residents with nothing to do, just staring at blank walls.
In February, Karen attended a resident/family council meeting where the idea of the nursery was being discussed. She posted to a Facebook page of local moms asking for donations of baby gear for the project. The response was so overwhelming, she had to turn donors away. Everything from the crib, to the strollers to clothing came from the community and took just four days to acquire.

Once the room was set-up, residents immediately started interacting with the babies, and with each other. See the video here.


Renee believes the babies and the nursery have reached residents at the level of their feelings.
"They may not be able to remember what they are supposed to be doing, but they instinctively know how to be around a baby," said Renee.

Thanks to the Cavanaugh family and everyone who contributed to this wonderful project.

- Bernadette DeSantis, CapitalCare Communications

---
People & Progress Newsletter Archive
For past issues, please select from the menu below.
Please select an edition