Town Halls build relationship, community; create neighbourhoods from the inside out
It may not have a name – yet – or a main street, but everyone who lives and works there feels like a part of it: the 1AB neighbourhood at CapitalCare Grandview.
A sense of community started to form last summer, after residents attended the first town hall meeting.

"I like these meetings," says 90-year-old Theo Luyckx. "It's a community: we get to meet our neighbors and talk to them. I remember before people never said hi, they all went to their rooms. Now we talk to each other and do things together."

The town hall concept was a response to some challenges that made it difficult for people to mingle and come together for social purposes.

With CapitalCare's person-centred pillars of Know Me, Respect Me, and Help Me Live Fully in mind, care manager Raymond Bett and an interdisciplinary team - including an LPN, a recreation therapist, the support services supervisor, and the spiritual care coordinator - met to find a way to build a sense of community while empowering residents to have some control over their environment.

"We hoped to improve relationships between residents, staff and each other," says Bett. "We wanted to hear from the residents what works and doesn't work for them, and make changes based on their feedback and experience rather than assumptions made by us."

Town hall meetings are like the community league meetings that take place in many Edmonton neighbourhoods and are a familiar format for some. Residents are involved in setting the agenda.  Everybody sits in a circle and a microphone is passed around to those wishing to speak.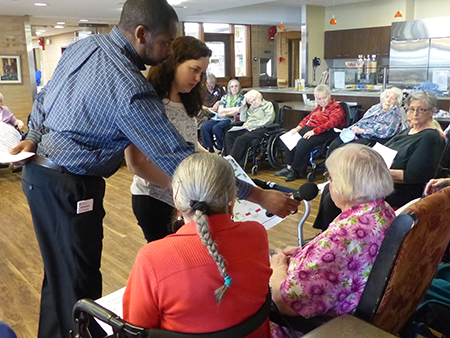 "Residents tell me they like the town hall format because they feel a sense of dignity and are empowered to solve problems for themselves, rather than going through their family members," says Bett.

Evelyn Hay has attended each one of the town halls and actively participates.

"If we don't talk about how we feel, how will they know what we want," she says. "This is our home and we need a place to speak our mind freely."

Staff say they value seeing the residents advocate for themselves and are becoming more aware of residents' actual feelings or experiences.

"I go back and tell (staff who could not attend) what was discussed and they say 'really?'" says Sukhminder Kalher, a health care aide. "Sometimes we don't see from the resident's perspective; we just focus on completing our job because we are so busy."

"Residents also tell us how good we are doing and thank us," Sukhminder added. "It feels good to be appreciated."
---
Centre Recreation Calendars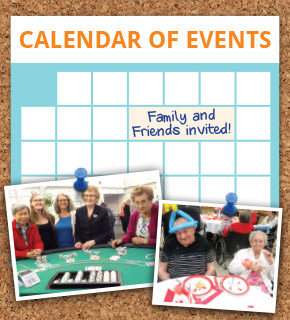 People & Progress Newsletter Archive
For past issues, please select from the menu below.
Please select an edition