In the News
High School students help residents celebrate Mothers' Day with makeovers and music
Cosmetology and photography students from Jasper Place High School came to Laurier House Lynnwood May 12 to help some residents shine. Designed with Mother's Day in mind, 24 students performed manicures, hair styling and makeup, before taking residents' portraits.
Yvonne Szott, recreation therapy assistant at Laurier House Lynnwood worked with Jamie Imeson, JPHS teacher, to create a fun and relaxing atmosphere for the first "Let Us Help You Shine" event. Paper flowers in purple, yellow and green decorated the walls and residents enjoyed cookies and punch while waiting for a variety of services from 24 students who pampered them with more services they are used to receiving in the long-term care centre's in-house salon; a duet of student musicians sang acoustic pop songs in the dining hall for the enjoyment of all residents.
Lorna McGhee-Lane has been a resident since October 2015. She positively glowed during her make up application. "I haven't danced since I was their age," she said referring to the students. "But tonight I feel like dancing."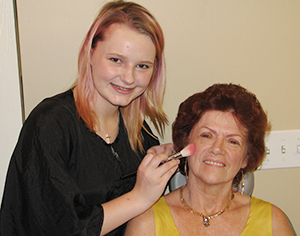 The event was a big hit with students, who graduate from high school next month and can challenge an exam that would allow them to work in the esthetics industry.
"We're so close by and it's a good opportunity for students to develop customer service skills," said teacher Jamie Imeson, "Plus they get to do something for the community that also gives them real world experience. We look forward to doing another one of these events soon
Mikiko Van Horn, Communications Coordinator,
CapitalCare Corporate Services
People & Progress Newsletter Archive
For past issues, please select from the menu below.
Please select an edition