In the News
CapitalCare Dickinsfield's Resident of the Year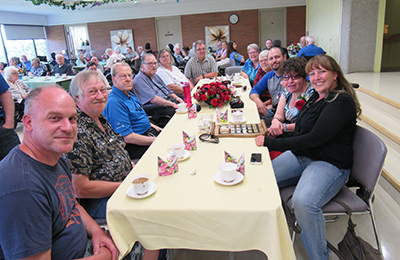 Debbie Frey is surrounded by friends and family as she receives the recognition of Resident of the Year.
CapitalCare Dickinsfield's Resident of the Year is Debbie Frey. Well-known as the top resident fundraiser in the 2014 Run for the Brave, Debbie is also an artist, volunteer and advocate for other residents and clients.
A resident for the past six years, Debbie donates her personal artwork to decorate residents' rooms, regularly assists at the centre knitting group as well as helping clients in the Young Adult Day Support (YADS) program with their artistic and creative ventures. When Debbie isn't volunteering her time in activities, she participates on the Resident Council and fundraises for CapitalCare Foundation and the Multiple Sclerosis society.
Understanding the importance of having celebrations at the local level, Debbie chooses to hold her birthday party on the unit, sharing cake and musical entertainment for everyone's enjoyment. She shows her appreciation to staff by recognizing them at significant times of the year. And she is attentive to the needs of her fellow residents, often taking comments and concerns forward to management on their behalf.
Debbie's care manager, Brent Huculak, surprised her with the award at a celebration held June 7 during Seniors Week.
Jan Hrasko, Recreation Therapist,
CapitalCare Dickinsfield
People & Progress Newsletter Archive
For past issues, please select from the menu below.
Please select an edition
Events

This all inclusive table event features an Alberta inspired feast right on the field at Commonwealth Stadium. Celebrate Edmonton's thriving food scene with award winning local chefs while supporting seniors in care!
Click here for details.
---
Strathcona Fashion Show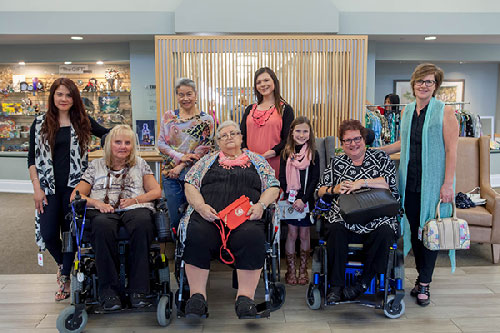 On May 24th, the ladies of CapitalCare Strathcona and Pieces Passion for Fashion teamed up to put on a fashion show that won't soon be forgotten. After a champagne reception, participating residents assembled two different outfits for themselves, which they then modeled for an audience of staff, residents and friends.

Once the show was over, residents and friends spent the rest of the evening shopping from the beautiful selection of fashion pieces and enjoying baked treats, courtesy of Renee Rhodes.The event was co-hosted by Liz Ellett, a resident of Laurier House Strathcona, care practice lead Renee Rhodes and site director Liz Tanti.
News Archives