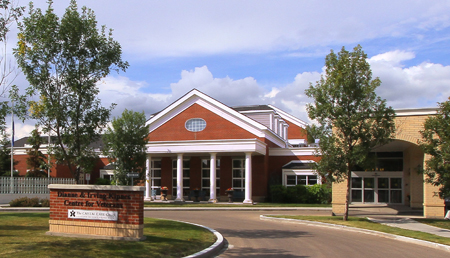 4470 McCrae Avenue 
(Castle Downs Rd. & 152 Ave)        
Edmonton, Alberta
T5E 6M8
T 

780.442.5700


F 

780.442.5711

 
 
Located in northwest Edmonton, the Dianne and Irving Kipnes Centre for Veterans has 120
long-term care
 beds and provides an environment that supports choice, autonomy and, where possible, independence. Veterans (male and female) currently have priority.  In addition to general long-term care, Kipnes Centre for Veterans offers the following specialized programs:
Dementia Care, Secure:
Adult Day Support Program
Support for individuals (veterans and non-veterans, male and female) with physical, emotional and/or social limitations who are age 55+ and reside in the community.

Provides respite for family caregivers while participants attend program.

Programming includes recreational activities, exercise, meals and snacks, family and client education and support, spiritual care and reminders to take prescribed medications.
For More Information
Alberta Health Services - Community Care Access is the first point of contact for all CapitalCare centres and programs. Please call 780.496.1300.
Reviews

Anita K. presented every staff member of the Kipnes Centre for Veterans with a poinsettia December 15 in recognition of their kind care of her uncle. Read Anita's review of the centre below

14 Dec 2016
Excellent facility. The staff are kind, the facility is spotless, and the rooms are a very decent size. My family member has been there for several months now and has actually come out of his shell. He engages with the other residents, he attends physiotherapy, he engages with the staff, he attends the events of his choosing, and is generally a much happier person. I am so grateful to everyone there for all their hard work. Bravo!
Anita K.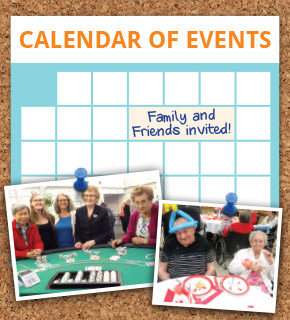 Main Floor
Event
For the Love of Music - February 10, 2017
This event will feature a variety of musical presentations from our musical friends & families who want to share with us their love of music. Money raised will go towards providing music care at the Kipnes Centre. Click here for ticket information 
Featured Story
The Dianne and Irving Kipnes Centre for Veterans had a lot to celebrate on November 5th, when donors and community groups joined staff, residents and families for a tour of the continuing care centre they have made a true home over the past ten years. (Read More)
Featured Letter
My sincere thoughts for all you do in caring for Mom and all the residents of Columbia House. I know your work is difficult and at times heartbreaking. I do sincerely appreciate all your efforts to keep up with the needs of each resident, and for caring for my mom.

 (Read More)